About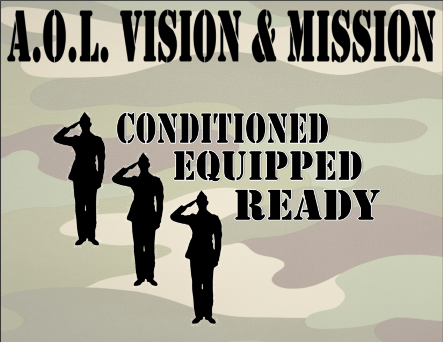 Army of the Lord (A.O.L.) is a Christ-Centered ministry with a focus on training up strong soldiers in the Lord's Spiritual Army. We believe that there is an ever raging battle in the spirit realm that invades the natural realm and causes the things that prevail in the spirit to manifest in the natural.
It is our endeavor to help those "whosoever" choose to enlist in this awesome battle to develop the following things…
A personal relationship with God
A strong prayer life
A life of integrity
An excellent understanding of the spiritual battle
A spiritual arsenal to defeat the enemy
An enduring spirit of perseverance
The ability to train others
We believe that through partnering with people and walking alongside them, the Lord is able to create strong bonds that will help support in those crucial times of need. We are comrades in arms and strive together for the mastery.
Joel 2:11 says, "And the Lord shall utter his voice before his army: For his camp is very great: for he is strong that executeth his word: For the day of the Lord is great and very terrible; and who can abide it?"
We strive to trains soldiers for God who will be able to not only abide that day, but to hear the words, "Well done thou good and faithful servant!"
Vision
To recruit and train new soldiers for Christ who will be conditioned, equipped, and ready to stand against every scheme of the enemy, while taking possession of all the spiritual blessings promised to them. Conditioned...Equipped...Ready!
Mission
Preaching the Gospel of Jesus Christ to win souls for the Kingdom, to build a strong membership ministry, and to raise up the next leaders in the Body of Christ. Recruiting soldiers for Christ through evangelism efforts, and training them to become strong, God-reliant Christians able to stand the test of time.
Comparing the Tribes of Israel and their military ministry to today's military in order to get a better understanding of the spiritual war that rages around us.
Creating books and manuals to clearly and simply present the principles of the Word of God to those eager to grow and mature spiritually.
Ministering to all parts of the family through various venues such as Basic Bible Study, Advanced Bible Study, Bishop's Academy, and Spiritual Military Training in order to bring about greater understanding and spiritual fortitude to win the battle for the family. Catering to the members of the family through Children's Ministry, Youth Ministry, Marriage Ministry, and Single's Ministry.
Providing specific training regarding becoming financially stable and successful according to the principles of God. Also, providing transportation opportunities for those willing to submit to further financial training with the possibility of receiving a donated car upon completion.
Assisting in building business ideas from creation to manifestation through facilitating workshops, seminars, trade shows, events, and fairs and establishing strong business networks for future resources.
Becoming a resource in the communities that we serve through food shelf programs, volunteer efforts for veterans, and other areas that the Lord calls us to.
Supporting missions within our own church through training and preparation to evangelize, operate within multi-cultural environments, and become familiar with territories within the world where the Gospel is needed. Also supporting other outreach ministries financially in order to assist in the spreading of the Gospel of Jesus Christ all over the world.